The Japanese Communist Party's Proliferation Bureau mascots have been around for a while now, but are finally getting mentioned in the English online world as they launch season 2 of their cartoon series. There isn't a complete list in english yet of all the different mascots and their profiles, so here's some more information from their website. The eight members of the Proliferation Bureau are:
Otento-sun, a sun who campaigns against nuclear energy. A nature-lover, and always cheerful and radiant. But if you mention nuclear power to him, he becomes demonic and burns brightly.
Gamagucchan, a purse who is concerned with tax savings for ordinary households. When you open his coin-purse head, his eyes get pulled apart, which is sorta disgusting, but what's even more disgusting is what wonderful things he says when you put money into him. He became a hopeless penny-pincher after saving up to buy his dream home.
Shiisa, an Okinawan lion dog who loves beautiful seas and islands. His jaw became unhinged sometimes after years of roaring to the government. He examines the issues with US bases in Okinawa, and has a strong fighting spirit.
Kaku-san, meaning proliferation, is the leader of the bureau and a man of passion. The gigantic megaphone he sits in is actually a part of his body.
Koyo no Yoko, in charge of labour issues and employment. A mysterious lady who always wears sunglasses and a trench coat.
Tawara Kometaro, an anthropomorphic hay bale in charge of anti-Trans-Pacific Partnership affairs. Gentle and strong, and normally very quiet – but about the TPP he can't stay silent! He enjoys japanese culture and cuisine.
Poken Shishou, a kind-hearted pacifist who holds Japan's Article 9 of the constitution as the highest of all philosophies. Article 9 renounces war and Japan's military capabilities. He is also a martial arts master. The constitution means so much to him, it became his head.
Kosodate Ikuko, in charge of child-rearing and education. A super mum who gives her all to raise her 10 children and educate them. She's planning to have one more child so she can start a family football team.
The JCP has always taken a more delicate approach to communist issues, calling thier method "lovable communism" (aisaseru kyosanshugi – 愛させる 共産主義). All eight of the mascots even have their own twitter accounts. There are also angatonists, evil characters such as Sakiokuri ("Procrastination"), who decieves ordinary people making them indecisive about political issues, B.K ("Black company") and B.B ("Black work") are twins who expoit workers and Saikado ("Resume operations") is plotting a return to nuclear power.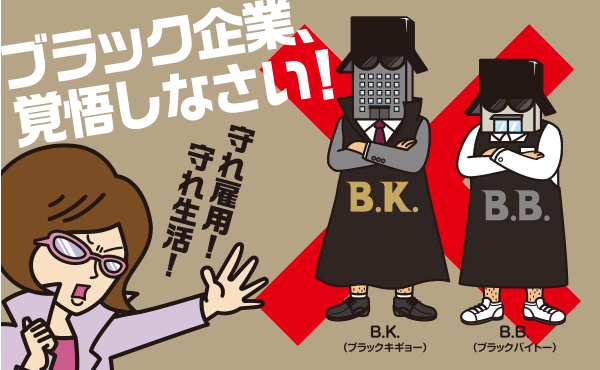 It has also inspired some cosplay which is featured on the website: